Rollei
Rolleiflex 2.8A Type 2

Introduced 1951
---

---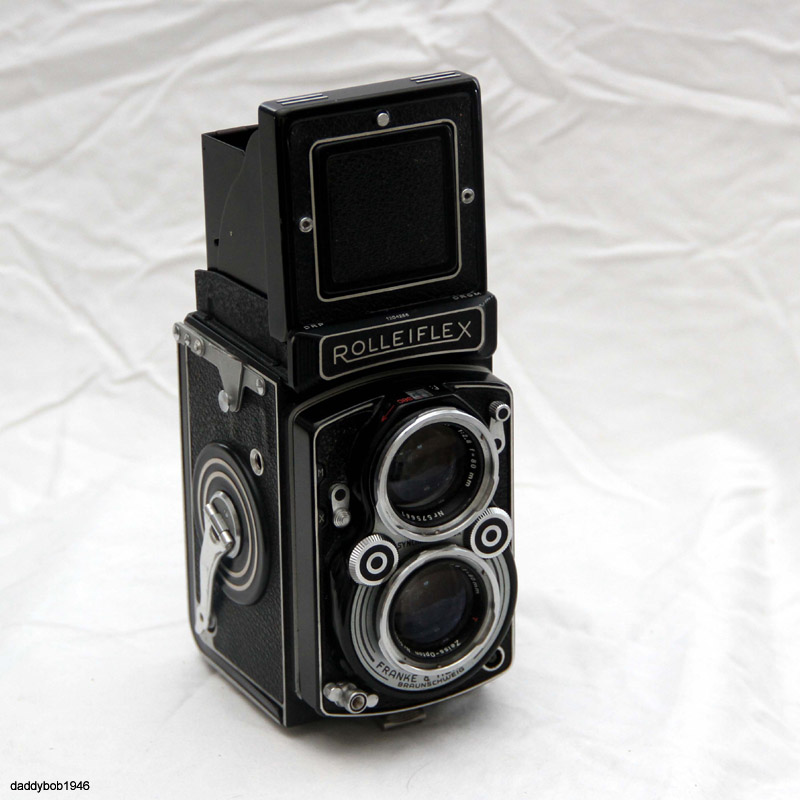 Click on Picture to See Reverse Side
---
The Rolleiflex TLR film cameras were notable for their exceptional build quality, compact size, modest weight, superior optics, durable, simple, reliable mechanics and bright viewfinders. They were popular and widely imitated. The high-quality 8 cm focal length lenses, manufactured by Zeiss and Schneider, allowed for a smaller, lighter, more compact camera than their imitators. The highly regarded Zeiss Planar f2.8 and Schneider Xenotar lenses, both 80mm focal length and fast in comparison, are both state of the art optics. Unique to the Rolleiflex Automat and letter model cameras, the mechanical wind mechanism was robust and clever, making film loading semi-automatic and quick. This mechanism started the exposure counter automatically, auto-spaced the 12 or 24 exposures, and tensioned the shutter; all with less than one full turn of the film advance crank. This makes the Rolleiflex Automat/Letter model cameras very sought-after for shooting fast paced action, such as street photography.

Serial # 1201000-1204999 from 1951, about 2000 produced. 80mm Tessar 2.8 lens. Heidoscop-Anastigmat 80mm F2.8 viewing lens. Interchangeable finder loupe. Parallax control. Compur Rapid MX shutter to 1/500. Bay II unique to this model.

I bought a camera bag full of accessories for $75 at a second hand store in Nacogdoches, Texas around 1997. In that bag was this camera and a Rolleicord. What a great find! SN 1204258.
---