Asahi
Pentax Spotmatic

Introduced 1964
---

---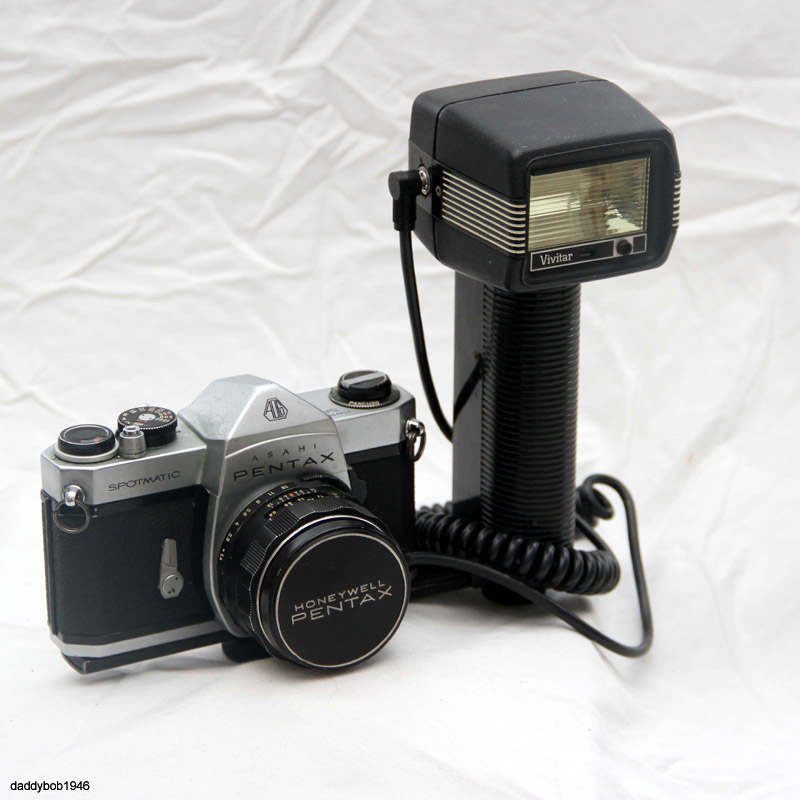 Click on Picture to See Reverse Side



Pictured With a Vivitar 352 Electronic Flash
---
The Pentax Spotmatic refers to a family of 35mm single-lens reflex cameras manufactured by the Asahi Optical Co. Ltd., later known as Pentax Corporation, between 1964 and 1976.

All Pentax Spotmatics used the M42 screw-thread lens mount which was developed before WW2 by Zeiss and Praktica. Asahi Optical used the name Takumar for their lenses. These were high-quality, progressively improved lenses, later versions of which featured multi-coating and were called Super Multi Coated Takumars.

The cameras allowed to focus the lens at maximum aperture to give a bright viewfinder image, then a switch at the side stops the lens down and switches on the metering which can be determined by a needle located on the side of the viewfinder. The use of stop-down light metering was at the time revolutionary, however it limited the capability of the lightmeter specially on low light situations. Later models Spotmatic F, Electro Spotmatic, ES, and ESII were capable of open-aperture metering when used with Super Multi Coated (S-M-C) Takumar lenses with an aperture coupling prong in the lens mount.

Honeywell was the U.S. importer of the Spotmatic. Cameras officially imported by Honeywell were labeled Honeywell Pentax, instead of Asahi Pentax. The Spotmatic IIa was only available as a Honeywell Pentax; it was sold exclusively in the USA and had an electronic interface for specific Honeywell Strobonar electronic flash units.

This was my first SLR camera and the one that got me interested in photography. I bought it when I was in the U. S. Army while stationed in Korea in 1969. I paid $126 at the local Post Exchange (PX) and had to put it on lay-away for 4 months. I used this camera exclusively until getting the Minolta X-700 around 1983. Great camera.
---