Oklahoma County Courthouses

Photos of all 77 Oklahoma County Courthouses

State Captiols
Photos of the State Capitols.

Texas County Courthouses
Photos of all 254 Texas County Courthouses

Church Buildings
A collection of church building photos.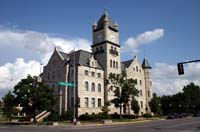 County Courthouses From Other States
Photos of county courthouses from other states collected as we have traveled around USA.
Aircraft
Photos of general aviation, commercial, and military aircraft at airports, airshows, and musuems.